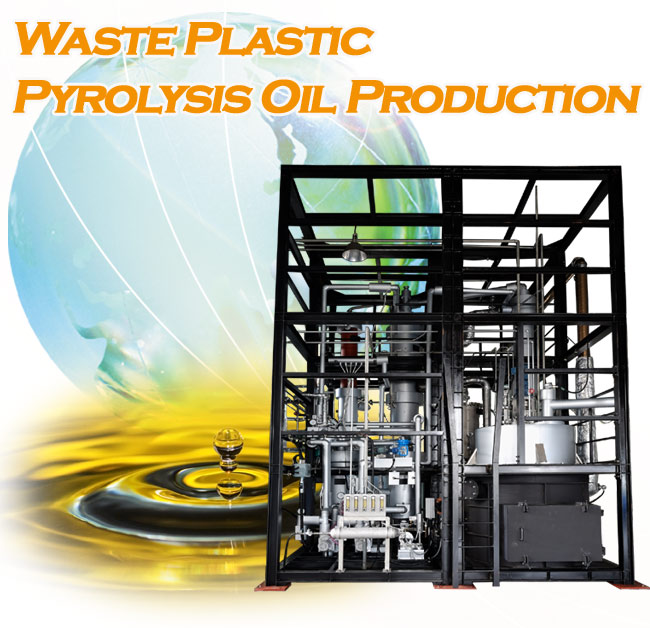 [High Processing Ability]
Max.8000kg of waste plastics can be converted into 8000liter of the cracked oil per day.
[Feed Stock]
PE/PP/PS plastics are suitable raw material for converting into the cracked oil.
PVC and PET are unsuitable. PE is among the best material for converting into diesel rich oil.
Multi-layer plastic of such PE/PA/PP/PS is also possible for converting into the cracked oil.
[Application of cracked oil]
The cracked oil from waste plastics can be utilized as a fuel for power generator and boiler etc.
(Cetane number of PE oil and PE/PA/PP/PS oil are over 50.)
[Advanced Pyrolysis Technology]
With CFP's patent technology, the cracked oil does not solidify even at low temperature.
Continuous feeding system comparing with batch type makes productivity improve dramatically.
Injecting nitrogen into the equipment purges oxygen and keeps the operation and equipment safe, and also prevents the cracked oil from oxidizing.
[No requirement of external utility source(such fuel and electricity)]
The cracked oil can be utilized for and cover all the burner fuel of the reactor and the power source of facilities by generating electricity with it. The off-gas can be utilized as gas burner fuel for reactor.
[Diesel Power generation]
1 liter of cracked oil generates approximately 4 - 5kw/liter of electricity.