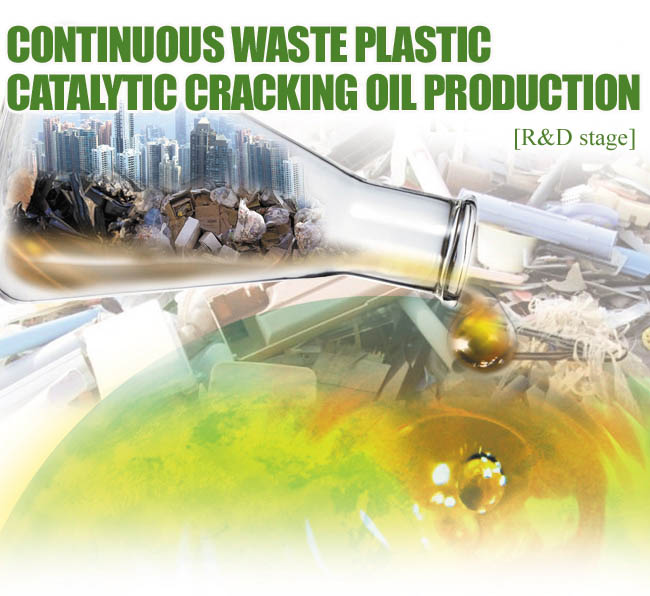 Recycling material is one of the important environmental agenda defined in 3R. Instead of simply reusing the material as it is, successful chemical reusing is a more effective way reducing the use of natural resources and environmental damage incurred thereof. We would like to draw your attention to our new process and a pertinent effective plant which successfully converts plastic wastes into wax-free hydrocarbon such as naphtha and diesel oil.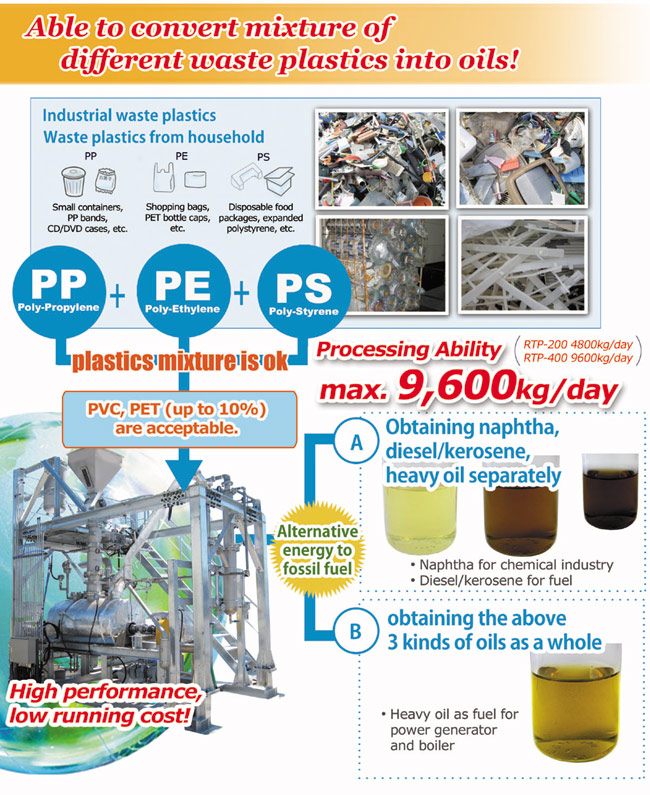 《  Special feature of RTP-series 》
[1]  Possible to crack mixture of plastics (PP/PE/PS) which are
   difficult for mechanical recycle.
   Small impurities such as sand, dirt and metal are processable.

[2] 100kg waste plastics can be converted into max. 100L cracked oil
   (up to input materials)  Yield is 86% in case of mixture of PP, PE, PS

[3]  No solidification even under low temperature (WAX-FREE)

[4]   Low residual chlorine (below 100ppm), even if 10% of PVC is mixed

[5]  Simple oil-converting process; continuous operation for max. 5 days

[6]  Oil of good quality derived (high percentage of light oil "Naphtha, diesel, kerosene")

[7]  Low running cost (using cheap catalyst)
Comparison with ordinary waste-to-fuel method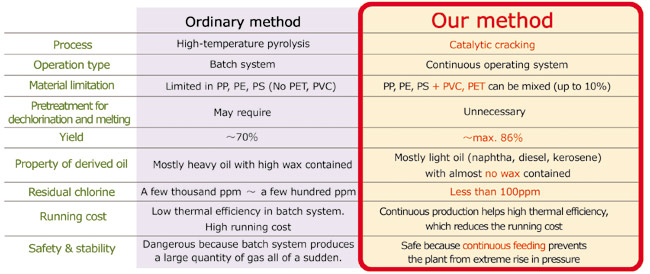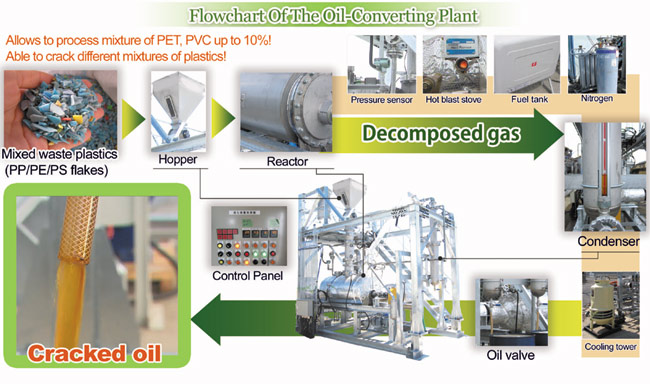 Property table of cracked oil using RTP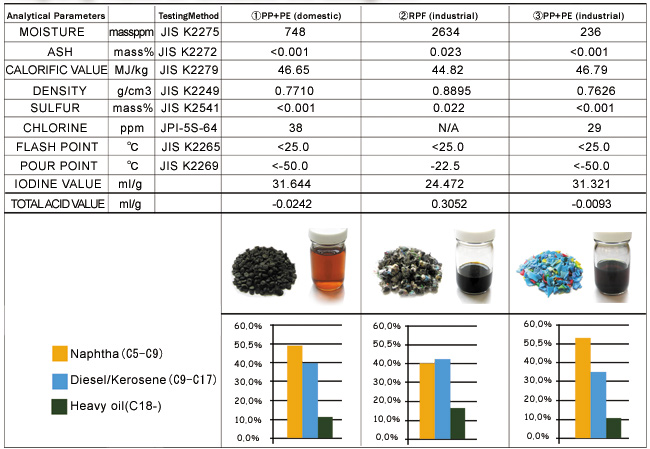 Q.1 Features of this plant?
A:
Our new breakthrough oil conversion plant is quite different from the ordinary one. We call this "Continuous waste plastic catalytic cracking oil production" plant. It can operate continuously until the activity of catalyst decreases The activity can be reactivated by burning off the deposited coke. With its unique system, high performance with low production cost is achieved. Our plant size is smaller than ordinary types.
Q.2 Processing capacity?
A:
Processing ability: max. 4,800kg/day (RTP-200),max. 9,600kg/day (RTP-400)
Maximum operating time: 5 days straight without catalyst exchange
Residue clean up and catalyst exchange: every 5 days
(Possible for 1-month non-stop operation at a maximumby adopting a new way of continuous catalyst exchange.)
Q3. How does it process?
A:
(1) Crushed plastics (less than 15 mm size) are fed into the hopper on the top of the plant.
(2) Plastics are sent to the reactor through the vertical pipes controlled by several valves without melting.
(3) Plastics are rapidly heated to 400-450℃ by catalyst for gasification.
(4) Cracked gas goes to the condensers and turned into naphtha,diesel oil and heavy oil. Those are stored in separate tanks.
(5) Off gas can be used as combustion fuel for heating the reactor.
Q.4 What's different from the popular method?
A:
There are more than 20 makers of waste-plastics-to-oil conversion plant in Japan. Most of them are non-catalyst batch system. The batch system has low thermal efficiency, because the reactor should be cooled off in every batch for safety reasons.
Unlike the batch system, our new method allows 5 days continuous operation with high yield of cracked oil.
Q.5 Safety and environmental issue?
A:
(1) Chlorine gas from PVC (Polyvinyl Chlorine) can be neutralized and eliminated by a neutralizer, thus the chlorine density in the cracked oil is controlled below 100 ppm.
(2) Off gas and its odor does not influence the atmosphere because off-gas is used as combustion fuel for heating the reactor. (3) No special considerations are required for reducing noise and vibration generated from the plant because of its structural arrangement.
(4) Cooling water doesn't get contaminated since it is used cyclicality only, so it can be discharged directly to the sewers without any treatment.
(6) The hot air from the blower is not contaminated and can be released directly into the atmosphere.
Business benefits by adopting our product
1. Achivement of zero emission recycle initiative
2. Cost reduction in incineration/disposal landfill of waste plastics
3. New profitable business in selling of cracked oil as product